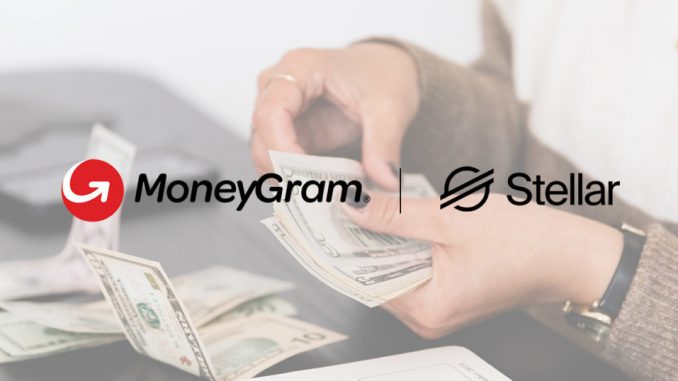 MoneyGram Access launches Fiat onramp and offramp services, which the American financial company has created in cooperation with Stellar. The main project goal is to simplify cryptocurrency selling and purchasing for users.
MoneyGram representatives claim about quite a challenging aspect of transferring funds between the classic and new financial world. MoneyGram Access is being developed to simplify access for every person.
MoneyGram and the Stellar (XLM) platform have combined efforts to develop the technology and announced a collaboration to do so in October 2021.
MoneyGram is the second largest provider of international money transfers with approximately 347,000 offices in more than 200 countries. Thus, the existing infrastructure can be used profitably to promote cryptocurrency transfers.
MoneyGram recently announced that a project called MoneyGram Access is now available. By building a bridge between cash and digital currencies, they want to increase the utility of cryptocurrencies.
Denel Dixon, executive director of the Stellar Foundation, believes this offer is greatly needed as it allows more people to participate in the crypto market than ever before.
Nowadays, almost 2 billion people depend on cash and do not have access to the digital economy. At the same time, the withdrawal of cryptocurrency into fiat is an ongoing problem for crypto users.
No bank account or credit card is required to make a deposit or withdrawal, only a verified account and cash.
What is MoneyGram Access?
However, now there are some limitations. First, the service is available in some countries, but not worldwide. These include Canada, Kenya, the Philippines and the United States. In addition, the offer is currently limited to only the Fiat onramp. Offramp should be available by the end of June. Eventually, MoneyGram Access will be launched in other countries as well.
The new service is actually a big step for cryptocurrency adoption. The offer allows people to buy or sell cryptocurrency by cash. Previously, this was only possible through crypto ATMs or P2P trading.
However, those two options are not enough, and MoneyGram's network of receiving offices is already well established.
To use MoneyGram Access, the user must create an account in the MoneyGram app and, as usual, complete the KYC process for identification. After that, go to the MoneyGram section and buy USDC by cash.
These USDC are logically Stellar Blockchain tokens.
What cryptocurrency can be bought with MoneyGram? USDC based on Stellar
For now, only USDC tokens can be purchased. Since Stellar Blockchain is an integral part of MoneyGram Access technology, other tokens may become available in the future. However, nothing more is known about this.
USDC can be sent to external wallets from the MoneyGram app, which simplifies exchanging for other cryptocurrencies. For more information, visit the official Stellar website.
There are no exchange fees for the first twelve months. What fees will be required thereafter have not yet been reported.